Brushing colors on any surface Itself reduces stress by 20%
Art has an awesome mind and sensory sync
Why Therapeutic Art Helps?
Here are some incredible pointers why art acts as a therapy:
Art is soothing to the mind and sensory
The colors themselves have healing power
The 7 colors of the rainbow balance our chakras
Through art, we can visit our past, present, and future and take control of our decisions
Art helps us understand the conscious, subconscious, and superconscious minds
Art helps us sail through anxiety,  stress, self-doubts and depression
Chlorosynth's Therapeutic Art Life Coaching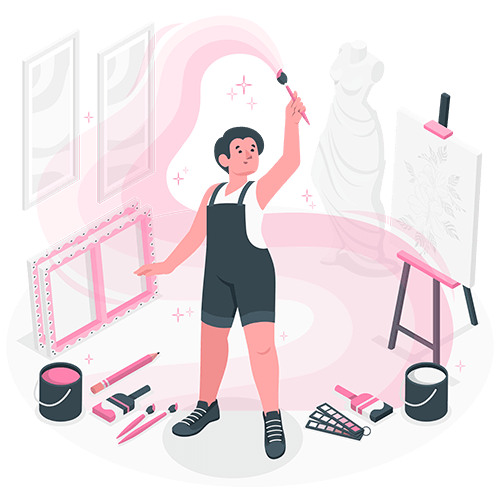 What is covered in the Therapeutic Art Coaching
Our One day/ two days workshop covers the following:
Start – Introduction and knowing the participants
Everyone can Create – What is the reward? 
The Relaxing Power of Paints themselves – Understanding Colors
Introducing Mandalas – The 7 Chakras Mandala
Creating Life Mandala – Your Past Preset and Future
Mandals for Meditation
Rise of the Phoneix – delete the past and rise again. Learn to forgive what is holding you back
Facilitating Affirmation Art – I use to believe _______________ but now I choose _________________
The Psychology of affirmation – Tame the monkey in your brain
Mental Aspect, Emotional Aspect, Physical aspect – create Art with Affirmation statements
Art of Stress Reduction – Coloring Mandalas, Doodling
Understanding parts of your mind Subconscious, Conscious and Subconscious mind
Bridging our thoughts & Reframing our Thoughts
Looking ourselves as a Whole Person
Manifestation of art – Vision Boards
Wrap Up & Question Answer
LET'S SAY HI!
Have a project to discuss?  Let's meet over a cup of coffee or tea or if you prefer over a video call.